Open Site Piling
Continuous flight auger and open bore piling for all types of ground.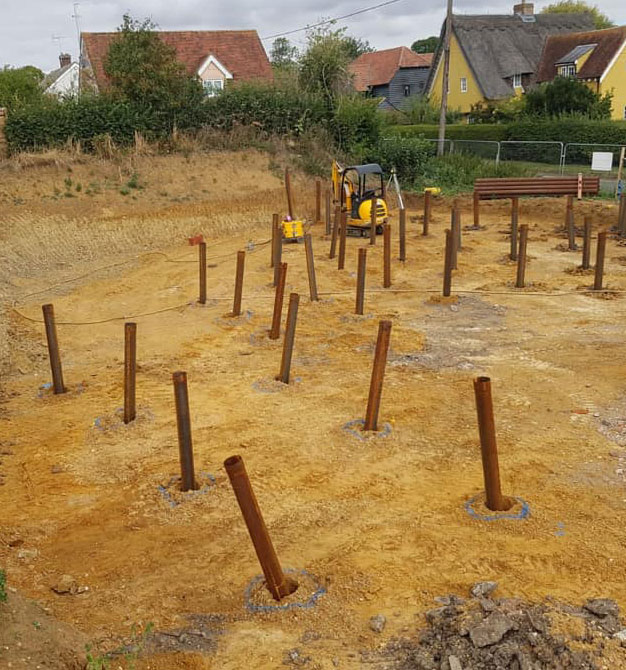 Professional Piling Services
Open Site Piling is normally carried out where there are no restrictions on site or access leading to site. Primarily Open Site piling is associated with new build schemes, either Residential, Commercial, Industrial or extensions to existing structures where there is good access.
Continuous Flight Auger Piling
This is a quick and simple method in which a pile is constructed by drilling a hollow stemmed auger into the ground. Upon reaching the required depth, concrete is pumped to the toe of the pile through the auger, whilst the auger is slowly and steadily withdrawn. The reinforcement cage is then placed into the concrete pile.
We offer complete design and construction services using CFA piles. With our wide range of rigs, we are able to install piles of various lengths, diameters and load capacities. We will provide you with a quality service to suit your individual needs.
Open Bore Piling
This piling method is suitable for cohesive soil. As the rotating auger is drilled into the ground, it drives into the strata, reaming out the soil; the auger is then withdrawn. The process is repeated until the required depth has been achieved. The steel reinforcement cage is then placed in the bored hole and filled with concrete.
We are able to achieve different bearing capacities, by varying the diameter and length of the piles. We will choose the right piling method to complete your job swiftly and effectively. Contact our engineers for open site piling in Colchester for honest advice.
Continuous flight auger and open bore piling for all types of ground.

Address
24 High Street,
Earls Colne, Colchester
CO6 2PA
Phone
01787 320 315
07880 737 967 
Contact us via telephone, email or webform and we'll arrange a convenient time to talk through your project with no obligation..